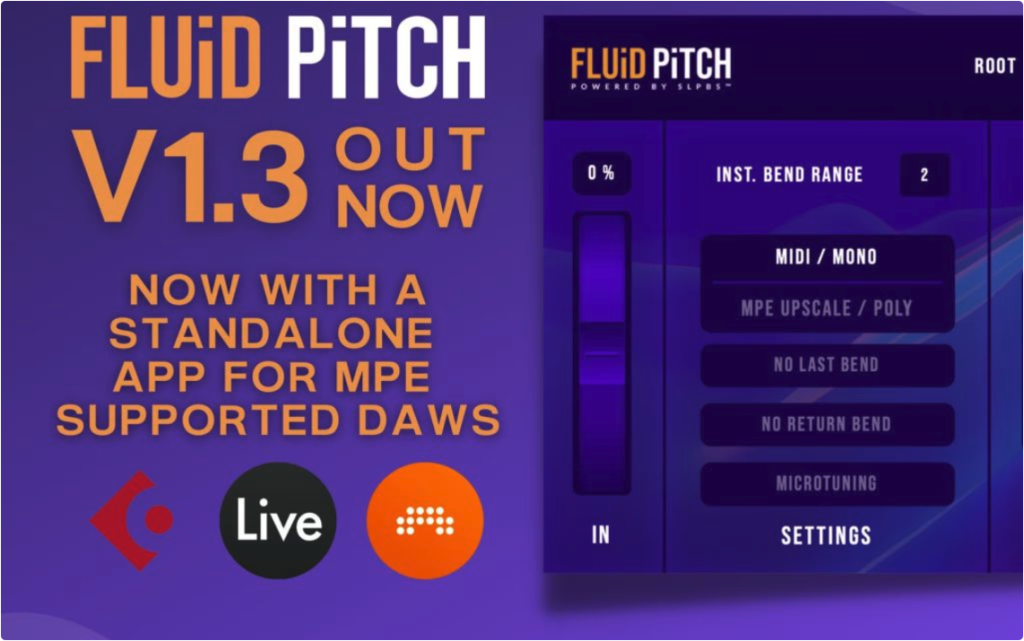 Version Changes:
Fluid Pitch v1.3 includes the standalone version, scale preset additions and much more.
Features Added:
Fluid Pitch includes a standalone version which will run outside the DAW. It can be used for MPE supported DAW's such as Ableton Live, Bitwig, Studio One, Cubase, etc
Various scale presets added – Japanese, Chinese, Indian(Carnatic and Hindustani) and Arabic
The input pitch-bend wheel represented in the GUI can now send pitch bend messages to the plugin while dragging it with a mouse
Fluid Pitch is now available as an AAX version for Pro Tools (monophonic only)
A "Load" button is available in the Keyswitch preset menu which will load the saved preset
Bug Fixes:
When the root is changed from C, the micro-tuning data was not being properly mapped with the pitch-bend destinations which is now fixed
In mono mode, CC1 value reset to 0 every time new notes were triggered. This is now fixed
When the activation count exceeds, the plugin informs the user promptly
The "Please change the INST. BEND RANGE" to more than 2" warning has been made to appear at the centre and other minor GUI changes
This is a FREE update to all our existing customers! Happy Fluid Pitch bending!
New Presets:
We have added 80+ new scale presets in this update. These presets allow users to quickly change the current working scale and draw inspiration from new ones. The addition of new presets include –
Indian A – Carnatic
Indian B – Hindustani
Arabic
Chinese
Japanese
How to use Standalone Fluid Pitch with any DAW
Fluid Pitch Standalone App can run outside the DAW. It takes in MIDI from the Keyboard and sends the MIDI to the DAW through a virtual MIDI port. In Polyphonic mode, it acts as an MPE controller. Fluid Pitch Standalone is the recommended format for Ableton Live 11, Studio One, Digital Performer, Reason, Maschine, Samplitude, etc.
(MIDI Flow while using Standalone Fluid Pitch)
To create a virtual MIDI Port in MacOS
Launch "Audio MIDI Setup"
Open the "Window" menu and click on "Show MIDI Studio"
Double-click on the IAC Driver icon
Activate the "Device is online" checkbox
Create a new port by clicking on the "+" button under "Ports" (refer to the screenshot)
(Creating virtual MIDI port in MacOS)
To create a virtual MIDI Port in Windows
Windows does not offer virtual midi ports. A 3rd party utility is required to provide this functionality. Fortunately, there are a number of options available. A popular option is LoopMIDI, which is free for private and non-commercial use. Others include LoopBe1 and sbvmidi.
Using LoopMIDI
Download, install and open LoopMIDI
Enter a name for the new virtual MIDI port.
Click the '+' button to create the port.
(Creating virtual MIDI port in Windows)
Setting up the Standalone App with the DAW
Open the Fluid Pitch standalone app.
Go to Settings and choose
i. Your MIDI Keyboard as the MIDI Input
ii. the virtual MIDI port(created in the previous steps) as the MIDI Output
Open your DAW and in the settings
Set the virtual MIDI port as the MIDI Input (refer the image below and enable the MPE mode in Ableton 11 and Studio One 5.3 above)
Insert a Synth plugin on a track and choose the virtual MIDI port as the MIDI input
(Standalone app settings)

(DAW Settings)