Fluid Pitch Standalone App can run outside the DAW. It takes in MIDI from the Keyboard and sends the MIDI to the DAW through a virtual MIDI port. In Polyphonic mode, it acts like an MPE controller.
5.1 Creating a virtual MIDI Port in MacOS

Launch "Audio MIDI Setup"
Open the "Window" menu and click on "Show MIDI Studio"
Double-click on the IAC Driver icon
Activate the "Device is online" checkbox
You can rename the Device Name if you like. "IAC Driver" is fine.
Create a new port by clicking on the "+" button below "Ports" (refer the screenshot).
5.2 Creating a virtual MIDI Port in Windows
Windows does not offer virtual midi ports, a 3rd party utility is required to provide this functionality. Fortunately, there are a number of options available. A popular option is LoopMIDI, which is free for private and non-commercial use. Others include LoopBe1 and sbvmidi.
5.3 Using LoopMIDI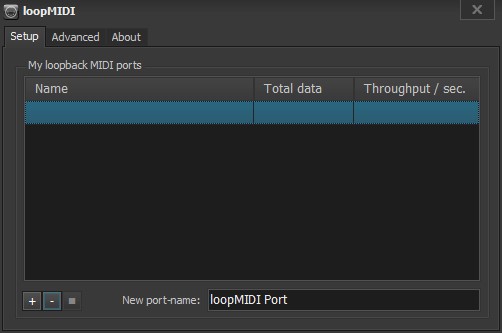 Download and install LoopMIDI.
Open LoopMIDI.
Enter a name for the new virtual MIDI port.
Click the '+' button to create the port.
5.4 S
etting up the Standalone App
Open the Fluid Pitch standalone app.
Go to Settings and choose

Your MIDI Keyboard as the MIDI Input
the virtual MIDI port as the MIDI Output

Open your DAW and in the settings
Set the virtual MIDI port as the MIDI Input (and enable the MPE mode in Ableton 11 and Studio One 5.3 above)
Insert a Synth plugin on a track and choose the virtual MIDI port as the MIDI input